Willow Haily Flynn
Gender:
Girl
Age:
12
Height:
4'7
Nationality:
American
Hometown:
Danville in the future
Born:
January 8, 2025
Created:
{{{created}}}
Nemesis:
Dylan
Behind the Scenes
First Appearance:
 
"Goofy Origins"
Voiced by:
Caitlyn Rund
Physical Appearance
Willow has a red shirt covered by a black jacket, blue jeans, black high tops, a blond ponytail that goes a little past her shoulders, blue eyes, and fair skin.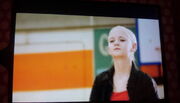 Personality
Willow is sweet, pretty, and nice. Her only enemy is Dylan, part of Cartoon Cluster. Willow is an optimist like her father, and is good at hiding her secret crush on Sam Carr. A lot of the boys in school have crushes on her.
Relationships
She loves and respects him.
See Phineas.
She and Samantha are BFFLs: Best Friends For Life.
See Sammy.
See Niko.
As of It's V-day!! they are BF/GF.
Trivia
Willow is highly allergic to - and highly scared of - mosquitoes.
Despite living with two boys and going to school with more, Willow is completely clueless about boys.
I got her photo off Netflix. I plan to do this for Niko and Sammy, too.
Willow is EXTREMELY scared of speaking in front of four or more people.
Community content is available under
CC-BY-SA
unless otherwise noted.