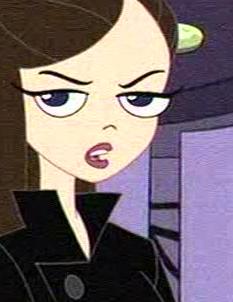 Vanessa's Space Quest is a game after passing
Vanessa Doofenshmirtz: Super Spy
. Go to the unlockable section and go to the game. The story of the game is that Mitch's evil space army has been trapping people from Earth and other planets. It's up to Vanessa to save space. You ride on a black spaceship(Which you can customize) to defeat the alien armada and save the people. In some levels in the game Meap helps you and the final boss is
Mitch
. You also go to different galaxies.
Well, thank you for inviting me!
This article belongs to MarioPhineas76. Please ask them before editing the article. If you do so without asking, or if the owner says no, you will get a warning. If you continue, you will be blocked.
&nbsp
Levels
Toy Time Galaxy
Block Planet
Train Planet
Bowl Planet
Gear Planet
Tool Planet
Candy Planet
Cake Planet
Dessert Planet
Boss: Isabelle Garcio-Sharpia's Evil Train Station
Garden Galaxy
Apple Planet
Thorn Planet
Dirt Planet
Flower Planet
Curve Planet
Garden Galaxy's Gravity Scramble
Vegetable Planet
Fruit Planet
Boss: Dr. Doomsday's Airship Armada
Dusty Desert Galaxy
Pyramid Planets

Moving Sand Planet

Cacti Planets

Maze Planet

Disk Planets

Ring Planet

Scorpian Planet

Boss: Weather Controler's Tornado Alley
Sunshine Beach Galaxy
Shark Planet
Sand Castle Planet
Palm Tree Planet
Backyard Beach Planet
Boss: Robot Vicky's Robot Army
Bold Boulder Galaxy
Rolling Stones Planet
Green Crystal Planet
Astroid Planet
Boulder Planet
Flying Boulder Galaxy
Boss: Crockbot 9000's Boulder Generator
Sky High Galaxy
Black Plond Planet
Sky Tower Planet
Instrument Planet
Castle Wall Planet
Windy Windmill Planet
Boss: Kevin Destruction's Sky High Tower
Game Galaxy
Chess Planet
Checkers Planet
Domino Planet
Board Game Planet
Video Game Planet
Boss: Dr. Lloyd Wexler's chess army
Sports Galaxy
Soccer Planet
Hockey Planet
Football Planet
Volleyball Planet
Basketball Planet
Boss: Evil Perry's sports shooter
Home Galaxy
Kitchen Planet
Bedroom Planet
Bathroom Planet
Living Room Planet
Backyard Planet
Boss: The Regurgitator's Doom Ship
Long Trunk Galaxy
Trunk Slide Planet
Log Planet
Truck Wheel
Big Tree Planet
Boss: Demon Dragon's Flame Ship
Freeze Frame Galaxy
Snow Fortress Planet

Blizzard Planet

Snow Field Planet

Lava Lake Planet

Boss: Professer Poofenplotz's Spider Robot
Cosmic Cove Galaxy
Water Maze Planet
Twin Falls Planet
Cosmic Cove Planet
Cosmic Cavern Planet
Star Rabbit Planet
Jupiter Planet
Boss: L.O.V.E.M.U.F.F.I.N.'s Planet of Doom
FINAL BOSS: Mitch's Death Ship
After finishing Vanessa's Space Quest a giant golden trophy apperars that says Hero of the Universe after that then a short cutscene shows that the people of Earth and other planets are cheering Vanessa and putting a crown on her. Then she says to you that you are the best player ever.
Community content is available under
CC-BY-SA
unless otherwise noted.