The Official Phineas and Ferb Fanon Newsletter Rebooted Reboot, Issue 4, February 5, 2014
 
News and reviews from the fan fiction world of Phineas and Ferb.
 
Today's Scribes
---
From the Desk of the Chief

by J. Severe

Happy new year and welcome to the first Danville Times issue of 2014! I know what you're thinking – hey Chief, reading the DT is my life and I'm sincerely crushed that we didn't have one for the past couple of months. Well, originally, like the P&F's Tri-State Gazette, the Danville Times crew had been planning on having a big holiday issue of the newsletter for both December and January which would feature a ton of content and end the rebooted reboot's debut year with a bang.

However, barely anything was sent in and I was without internet for the period of time the jumbo newsletter would've gone up, so alas, it was cancelled. Sorry, dedicated reader. Fortunately, the wait is over, and you can celebrate by reading today's issue, which has Valentine's Day-themed content!

Newsletter Poll




What will you be doing this Valentine's Day?

 
---
A Look at P&F Pairings
by J. Severe (again)

Phineas and Ferb is known for many things – its humor, action, music, and apparently, its romance. There are several pairings in the show, and since it's February, we'll take a look at some of the most popular ones!
Doofenshmirtz X Unnamed date

Typically, Doof doesn't have much luck in anything, whether it be trying to take over the Tri-State Area or finding love. He was married to Charlene for awhile and had a daughter, but they ended up getting divorced; he met an online dater but she was more interested in cuddling with Perry than paying attention to him (Get That Bigfoot Outa My Face!); Elizabeth dumped him for a whale (Perry Lays an Egg), and, most notably, sometime in the 80s he courted Linda Flynn until she made him take her home after mishaps on the way to and at a drive-in movie theater (What Do It Do?).
However, the one time it did work out was with his unnamed date voiced by Sheena Easton in Chez Platypus. Fed up with all of the happy couples in Danville, poor Doof had launched a De Love-inator satellite which he planned to activate if his evening didn't go well, but the two hit it off excellently; as it turned out, they were both a fan of evil, even sporting similar evil-themed tattoos. They had a love strong enough to rule the whole world, they both maniacally laughed at all the same stuff, and had robot armies that marched to the beating of their hearts! Alas, it wasn't to last, as Doof's satellite ended up falling out of space and zapped his girlfriend, eliminating her affection for him. It was a short-lived relationship, but at least it gave us a great song.
Vanessa X Monty

The show's resident Romeo and Juliet-esque romance is with Vanessa Doofenshmirtz and Monty Monogram. After breaking up with her previous boyfriend Johnny in Minor Monogram, Vanessa decides to go after a good guy, after having met Major Monogram's recently returned son, and the two officially began dating in Sipping With the Enemy. It'd be interesting to see how things go when their parents finally find out; after all, there's bound to be some drama when one half of the pairing is the daughter of one on the side of the evil and the other the son of one on the side of good, but it looks like it probably won't happen – at least in the series' summer setting. In Druselsteinoween, the two are still shown to be dating with their folks unaware, and that ep supposedly takes place on the Halloween after the season the show is set in. However, there's always the chance that it's uncanon, as it directly contradicts That's the Spirit!, which is supposed to take place at the same time but isn't referenced at all, so maybe we will see how things turn out in the end?
Baljeet X Buford

Baljeet and Buford's relationship is about as close to a gay pairing as you can get without explicitly acknowledging it in a Disney cartoon. Though Buford started out as a bully in the beginning of the show, he's since turned into more of an aggressive friend in the P&F gang, and is shown to be most close to Baljeet. Baljeet is Buford's nerd and Buford Baljeet's bully and they've established themselves as "frenemies" in the Vaudeville-like song of the same name from Lotsa Latkes.
The two went their separate ways in Bully Bromance Breakup after Baljeet became fed up with his other after he chooses a plastic bag to put his purchased items at a local store. Buford becomes Doofenshmirtz's apprentice and Baljeet decides to spend a day doing whatever he wants now that he is free, but they end up realizing that they miss each other in the ep's song, "Big Honkin' Hole in My Heart," followed shortly by Buford leaving his boss before they execute their plan, with Van Stomm tearfully proclaiming that "there comes a time when you don't wanna bully everyone. You just wanna bully someone you love" and the two reuniting later on.
Linda X Lawrence

We may never find out who Linda and Lawrence were with before they got married, but we don't need to know since their current marriage is so well done. The only adult relationship frequently portrayed in the show, the two are shown to be very loving towards each other. Their wedding anniversary was the subject of season one's Dude, We're Getting the Band Back Together (which is also my favorite non-special episode), where Phineas, Ferb, and Candace worked together to reunite the members of Love Händel, whose farewell concert the two originally fell in love at. They're also shown to be quite playful; in Road Trip, Linda awards Lawrence some "man points" after chatting with a fellow trucker through CB radio, only to lose them after cheering "Woo-hoo!" They also share some nice moments in Ladies and Gentlemen, Meet Max Modem!, where Lawrence becomes sensation Max Modem after Linda resumes her career as singer Lindana for a reunion concert.
Candace X Jeremy

The most major aspect of Candace's personality (other than her want to bust her brother) is her obsessiveness over Jeremy Johnson, who she's loved for a long time. Early in the series, she often spied on him during his shifts at the Slushy chain of restaurants, and remained insincere about whether he liked her or not and wary of his interaction with other girls. As it turned out, he returned her feelings, as revealed in Summer Belongs to You, and in the special the two became girlfriend and boyfriend and shared their first kiss. Their relationship has since continued to be shown and been the subject of several plot points in the show.
Phineas X Isabella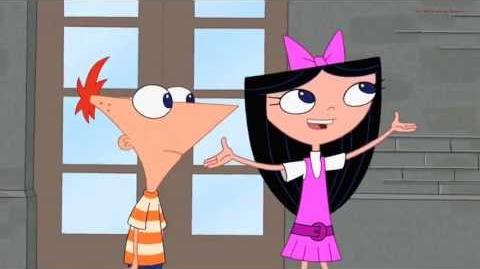 Ignoring the rabid Phinbella shippers who make up the darkest part of the Phineas and Ferb fandom, this pairing is the most popular in the show and has been touched upon several times. Isabella has a deep crush on Phineas, which he has been hilariously oblivious to on many occasions. Isabella's willing to do anything for him, often daydreams about him (Isabella and the Temple of Sap), and zones out in conversations with him when he explains stuff, catching only when he speaks her name (Phineas and Ferb Mission Marvel). At times, she's quite saddened when he doesn't pay attention to her and focuses more on his projects, and sometimes even doubts that he reciprocates her feelings. This is most prominently demonstrated in Summer Belongs With You, when she cries as they are stranded on an island as he hadn't managed to notice any of her advances while they were in Paris, but when he sits by her to watch the sunset after he gives up trying to find a way off, she nobly interrupts what she's always dreamed of to motivate him to get to work.
On Phineas's side, as mentioned, he's hopelessly oblivious and treats her as nothing more than a friend. Granted, he has recognized her as cute (Chronicles of Meap, Meapless in Seattle), but only from a scientific standpoint. Isabella finally kissed Phin in Phineas and Ferb The Movie: Across the 2nd Dimension, before they had their memories wiped, and Phineas seemed to enjoy it but couldn't say anything more before they forgot about the whole thing. Most recently, Isabella seems to have lightened up, realizing that she'll probably never have a truly romantic moment with her crush, and instead will just take any moment in which she'll be able to spend any time with him, whether they be stuck on a tarmac, trapped under rubble, moving a piano, getting orthodontia, or being in a smelly subway car (Happy Birthday, Isabella).
The question nevertheless remains what the future will hold for these two young 'uns. An upcoming season four episode, Act Your Age, will feature an emotional Phineas and Isabella song that made series creator Dan and Swampy cry when they heard it. Photos of the script also seem to hint that the episode will take place in the future and center around teenaged versions of the cast, the stuff of every fanfiction writer's dream. And, as confirmed by Candace's daughter in Phineas and Ferb's Quantum Boogaloo, Isabella will end up marrying either Phineas or Ferb (fingers crossed for the latter!)
Perry X Doofenshmirtz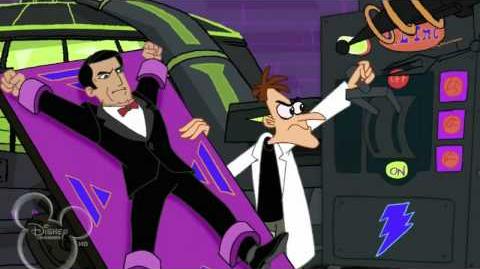 No doubt the greatest relationship in the show is between Perry the Platypus and Dr. Doofenshmirtz. They are nemeses who have been following the formula of the secret agent battling an evil scientist for as long as they can remember, and since have grown very attached to each other. Doof treats his encounters with Perry seriously, feeling offended when he leaves early or comes late to/after thwarting his evil plans, and lonely when he doesn't show up. In season one's It's About Time, Perry finds Doof being thwarted by another agent, Peter the Panda, which leads to him leaving, feeling dejected. Later, Doof is hurt when Peter doesn't take the time to listen to his ramblings as Perry does and instead goes ahead to disassembling his –inator, storming off. Doof and Perry deal with their struggles on Dr. Feelbetter's talk show, where they sort everything out and Perry accepts Doof's apology for replacing him and the two return to the status quo.
Perry often helps Doof out with things he doesn't consider evil, such as setting up a birthday party for Vanessa (Dude, We're Getting the Band Back Together), shopping for groceries (Unfair Science Fair Redux (Another Story), learning how to kick a ball (Thaddeus and Thor), and participating in an exercise show (Candace Disconnected). Doof considers Perry his best friend (Chronicles of Meap), part of his family (A Real Boy), and even notes how they sometimes act like an old married couple (Phineas and Ferb Interrupted). In the end though, despite the fact that Perry is mostly quite civil towards Doof, when he threatens the well-being of his family, notably Phineas and Ferb, he loses his mercy and quickly defeats him, because ultimately he loves them more than anyone else.
HONORABLE MENTION: Baljeet X Linda
---
Art Aisle
---
Contest Corner
by J. Severe (again again!)
There hasn't been a contest since November. In December, Goldy set up the third annual Secret Santa, which took the place of the monthly contest and technically hasn't ended yet, so you could still do that even though it's out of season.
Road to Ruin: Chapter Two - Reports
"Do you actually have something to say to me, or you just gonna sit up there taking up all the available oxygen?"
Jeremy looked at Candace. "Does it matter?" He turned back to the sights below the skyscraper. "We have to make sure there's no guards."
Candace rolled her eyes and smiled. "If there was, I could take them."
Jeremy frowned and walked over to Candace. "Maybe. But I'd rather you'd not have to fight."
Candace shrugged. "Now, what do you need to tell me?"
Jeremy turned from her. "Well, from my men's investigation, Doofenshmirtz is planning a massive takedown of another state- we're thinking she's working her way west- next state looking to be Washington or Oregon. She has stopped all forces south of Kansas, seeing the locals are troublesome and are giving a run for the solders' money."
"And how far East?" Candace asked.
"It expands as far as half of Wisconsin, the northwest part of Missouri has been taken also. She is having a hard time taking any states southern of Kansas, but is having little problem going east." Jeremy explained.
"And how is our little neighbor, the so called 'Land of the Free'?" Candace said, with interest.
"According to Stacy, Texas is demanding independence, and they want all existing original territory to go with it. They say that the United States are not doing enough to fight Doofania, that they should have destroyed it long ago, and the laws in place are not allowing the states to defend themselves, so Texas wants out of it."
"At least someone out there has enough sense." Candace said, remembering how the US sat by when the Tri-State area got taken over the first time, and how they never lifted a finger for the situation since.
"But that is all the news I have for now." Jeremy said, turning back to Candace. "How are you doing?"
Candace smiled, something she didn't do often. "I'm doing good for my current state. Working on strategies, but I'd rather be up and out in the field."
Jeremy frowned and shook his head. "I have advised against that. You know... You... Being..."
Candace put her finger up to his lips. "I know, I know." She took her hand off and walked to the edge of the building. "I'll see you in three days, same spot." She said.
"Yes sir." Jeremy replied. "Goodbye, Candace... Sir."
Candace started to make her way down the building, with a bit of difficultly. "Be careful..." Jeremy added.
Candace smiled and chuckled. "I can handle it. You act like being three months pregnant is a bad thing."
---
You can read more of the story here.
---
Coming in the next issue:
Saint Patrick's Day stuff?
Shameless attempts to get your money since we lost our only sponsor months ago!
More serious fanfics based on children's cartoons!
And whatever other wacky stuff the users of Fanon can cook up!
Contact
The newsletter's already fabulous because I'm contributing to it, but it could be even MORE fabulous if you sent content in too! Email whatever you'd like to have featured to danvilletimesmag@yahoo.com or leave it on the Danville Times talk page and watch it magically appear in the March issue!
Community content is available under
CC-BY-SA
unless otherwise noted.