The Official Phineas and Ferb Fanon Newsletter Rebooted Reboot, Issue 3, November 16, 2013
 
News and reviews from the fan fiction world of Phineas and Ferb.
 
Today's Scribes
---
From the Desk of the Chief

by J. Severe

After a month break, the Danville Times is back! It's returned to its regular color scheme after last month's brief Halloween-themed change… well, for the most part. A minor color adjustment has been made to the background for the body articles to make it to more pleasing to the eye and match more with the wiki.

Another, more notable, change, is the addition of a "Today's Scribes" heading to the top of the newsletter, which was inspired by the "Meet the Editors!" sidebar in the original Preview Issue of the Danville Times from April 2010, which I really liked and have wanted to incorporate into the newsletter ever since the first rebooted reboot issue. What do you think of it?

With that said, feel free to read on!

Current discussions




* Random Topic Blogging III: Blog Harder
---
JS talks about stuff you don't care about 3: Now on DVD!
by J. Severe (again)

In the first issue, I taught you about the history of this fair magazine. In the second issue, I informed you of the famed stepbrothers' latest video gaming exploits. Today, I shall enrich you with knowledge of the show's DVD releases!
We're all familiar with the way Disney does home media releases. They mainly shy away from season box sets (except in the case of a couple of shows, Hannah Montana and Kim Possible, though those only got releases for two of their four), opting only for volume releases containing a few themed episodes of a show. Up until recently we didn't know quite why they did this, until Gravity Falls creator Alex Hirsch explained in an AMA on Reddit that Disney doesn't think that it would be worth the work to put together a Blu-ray season set with a bunch of good bonus features as it likely wouldn't sell enough to make up for the money it'd cost to produce such a thing, since their target audience doesn't care about such fancy releases and all (though Hirsch said that the Mouse would be more willing to consider doing so if the standalone DVDs sold a ton and encouraged fans to buy a lot).
Therefore, in the meantime, the closest thing fans have to a season box set is buying all of the episodes off of iTunes (where they're all available in fantastic high-definition). The fact that episodes on iTunes are downloaded through digital means and are pretty cheap to put up as you don't have to deal with printing discs and packaging material and shipping those out to stores are probably why Disney prefers to go this route. Of course, they don't come with any bonus stuff, but we'll have to make do with it until Disney realizes that people crying for season box sets means that there are, in fact, folks who want to give them their money. Every once in a while though, Disney still cranks out DVDs for the young'uns who don't have access to online stores.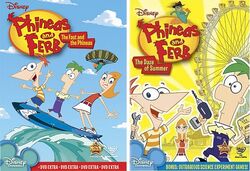 There are seven total DVDs that have been released in the United States. The first, which was released on July 29, 2008, is titled "The Fast and the Phineas," after the season 1 episode of the same name. It contains eight episodes: the titular one, "Lawn Gnome Beach Party of Terror," "One Good Scare Ought to Do It!" (which hadn't premiered on Disney Channel at the time of release), "Are You My Mummy?," "Flop Starz," "Raging Bully," "Lights, Candace, Action!," and "It's About Time!"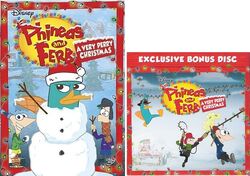 The second release was "The Daze of Summer," which hit shelves February 10, 2009. This one contained 10 episodes: "Jerk De Soleil," "Toy to the World," "A Hard Day's Knight," "I, Brobot," "It's a Mud, Mud, Mud, Mud World," "The Ballad of Badbeard," "Greece Lightning," "Leave the Busting to Us!," and the "Unfair Science Fair" duo. The third release introduced season 2 episodes; "A Very Perry Christmas," released October 5, 2010, had (as you've probably guessed from the title) the modern holiday classic "Phineas and Ferb Christmas Vacation!" and five extra Perry-themed eps: "Interview with a Platypus," "Oh, There You Are Perry," "Chez Platypus," "Perry Lays an Egg," "Perry Lays an Egg," and "The Doof Side of the Moon" (which hadn't aired on TV yet at the time of release either). When bought at Toys R Us, it also came with a bonus disc with "The Chronicles of Meap," which was the first ep on DVD to have commentary (provided by Doofenshmirtz and Monogram).
The fourth DVD was the release of "Phineas and Ferb: Across the 2nd Dimension," which released August 23, 2011 and contained the bonus episode "Attack of the 50 Foot Sister." This one is actually unique, as it's the first to contain both a season 3 feature (the movie) and a season 2 feature (the ep), with the latter also having character and creator commentary. Once again, the Toys R Us edition came with a bonus disc containing "Ask A Foolish Question" and "Misperceived Monotreme," as well as eps of "Take Two with Phineas and Ferb!"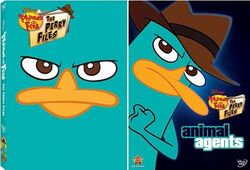 The fifth release, titled "The Perry Files," was released June 5, 2012. It contains "No More Bunny Business," "Spa Day," "Split Personality," "Brain Drain," "Candace Disconnected," "Magic Carpet Ride," "Ask a Foolish Question" and "Misperceived Monotreme" (in case you missed out on AT2D's bonus disc), "Mommy Can You Hear Me?," "Road Trip," "Perry The Actorpus," "Bullseye!," "Escape from Phineas Tower," and "The Remains of the Platypus." The line continued with "The Perry Files: Animal Agents," released February 26, 2013 and spanning episodes from the first three seasons: "Journey to the Center of Candace," "Traffic Cam Caper," "Vanessassary Roughness," "Isabella and the Temple of Sap," "Cheer Up Candace," "Robot Rodeo," "Lotsa Latkes," "Agent Doof," "Where's Perry?," "Where's Perry? (Part Two)," "What'd I Miss?," and "Bowl-R-Ama Drama."
Lastly, the seventh and most recent release was last month's "Phineas and Ferb Mission Marvel," centered around the big superhero special that premiered this past summer. In addition to the titular title, it also contained "Fly On the Wall," "Sidetracked," "Primal Perry," "Backyard Hodge Podge," "Knot My Problem," and "Mind Share." I actually saw this one at Wal-Mart a few weeks ago, and had to stop and admire it. For how cheap Disney usually is, this had some pretty neat packaging, including a really nice embossed slipcover. The fact that it also has a collectible comic book and one of three randomly-chosen pull-out posters makes it a pretty good value, actually, much like the recent Gravity Falls DVD release, which contains six eps, a replication of Dipper's '3' journal, and a poster for $14.99.
Now that I've explained all that, I bet you think I'm done now, right? Ha ha-WRONG!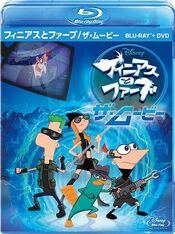 Though no one else has gotten season box sets, P&F's home media treatment has been slightly better in other countries. Most notably, Disney Japan is much more willing to use their dough, as they have all of the DVD releases of the show in the US over there... but they're also released on Blu-ray! The reason I point this out is because Japanese Blu-rays share the same region as U.S. Blu-rays, so if you were to import them, they would work on your local BD player. As well, they all apparently have English audio and subtitles along with the Japanese, so you could import them and they'd effectively be English releases with Japanese packaging.
The only thing that may discourage you from doing so however is the price it would cost to import them – ordering one from Amazon Japan, for example, would set you back $40 in addition to the $20 shipping charge. There are cheaper ways of getting it, such as through lesser known sites such as YesAsia, which offer free shipping, though. I would've gotten of these myself if I wasn't broke.
So that's pretty much the history of P&F DVD releases! What will be the next one? We don't know, but there surely will be more to come as long as the show's on air, and it's quite apparent that P&F will still be on our televisions for years to come, so they're not going anywhere!
---
Art Aisle
---
Contest Corner
by J. Severe (again again!)
Congratulations to PeaceLoveAgentP for winning October's "Are You Afraid of the Dark?" contest with her stunning story, Something's Amiss on Old Hallow's Eve! November's contest, "It's a Classic" is already underway, having started November 11 and ending on November 29. The theme, which was thought up by myself, is, as you may have guessed, is old-timey stuff! Make a classy black and white drawing, or do a fic set in the early 1900s, your choice! Coincidentally, last night's new episode, "Steampunx", is set during the same period, so if you're drawing up a blank, consult that for inspiration!
Road to Ruin: Chapter One
So, I decided to publish this in the mag, at least we'll have this to look forward to, it'll be one chapter every two issues or more, maybe. The stories will take place in the second dimension with no 1st dimension characters. And considering the subject matters in this, I decided to rate it PG-13, but no one should even be on the wikia if you're under 13, so yea.
---
"It would be suicide, Ferb. We can't risk our lives on such a matter." The 19 year old looked at his second in command. "You are joking. We have to be able to reach the base on the other side of this rubble, there we will meet up with Phineas and your "team"." He walked out from the safety of the rubble. "We need to reach them, and then meet up with Candace at base. Is that clear?"
Isabella glared at him. "Yes, Sir." She picked up her sword. "I would remind you Doofenshmirtz's men would be searching for survivors to put to work. But I guess you would know that, Sir."
Ferb looked at her again. "Excellent point." Ferb looked around for a body with decent clothing, walking up to a older man and taking his jacket off. He threw it to Isabella. "Put that on. It'll hide you enough. And if you see one of the men, just remember to cough up some blood."
Isabella shuttered wondering what she would have to do to make herself cough up blood- or at least make it look like it. She closed her eyes and bit her tongue. She flinched when she felt her teeth go through the skin.
Ferb walked up, wearing another mans jacket. "Enough to cover up our basic gear." He looked at Isabella, who had blood on her lips, he smiled. "Had you forgotten this?" He held up a red gel pill and popped it in his mouth, and bit it. He opened is mouth and "blood" came out of his mouth. "You're gonna have to take one anyway, that little slit is not gonna make any difference, but that pills going to burn."
Ferb put it up to Isabella's lip and pushed it in, to Isabella's surprise. It burned. Oh how it burned. After two minutes, Isabella spoke. "Ready... When you are..."
"Good. Now, we just walk. We can hide our gear good enough, they won't recognize us." Ferb put on a hat, not wanting anyone to recognize his green hair. "If to see any guards, remember, we say we are sick, and cough up blood. Understood?"
"I've done this before, and yes." Isabella replied.
They managed to walk most of the distance without being seen by any guards, only the occasional civilian, who was either too traumatized or sick to say anything. So they walked, taking notes of the damage done. The place had been one of the "happier" factories that had been made. It was a propaganda factory, aimed at making things for children to make them loyal to Doofenshmirtz's "presidency" as it was called. Since the biggest rebellion group, lead by Candace Flynn, aimed mostly at children and younger adults. There were other rebellion groups, but none like Candace's, the first rebellion group to even try to bring peace. And it survived many conflicts- in the group an out.
They reached the meeting destination, to find Phineas sitting on the ground, playing with a cat who had lost a leg, petting it and feeding it tiny bits of rations. "Good, cat. very good kitty. You remind me of Perry." He said.
"Phineas." Ferb said to his brother in a stern voice. Phineas stood up, with the cat in his hand, and saluted with the other. "Don't bother." Ferb said.
Phineas put his hand down and lowered the cat to the ground.
"Now, where are the girls?" Ferb asked. "It was agreed they would be here." He said, pacing back and forth.
"They headed back to base. Candace's orders." He said. "Delivered through message."
"And the messenger?" Ferb asked, hoping it wasn't a plan from Doofenshmirtz.
"James Castro. Message was that guards were looking for large groups of people. So I sent the girls back." Phineas explained.
Ferb nodded. "Good judgement, Brother." He turned to Isabella, "you agree?"
"Yes, Sir." She replied. "I suggest we get a move on, now. Doofenshmirtz's men will be making rounds in a hour."
Ferb nodded. "Lets go then."
---
Isabella slowly entered the room where Candace was. Everyone knew this is where she came to think, or to give a thorough verbal lashing to someone, so she went in quietly. She seen a dark figure, standing in the corner, looking into a electronic map of the upper north part of the United States. Isabella was about to make her presence known, when Candace spoke up. "Just come in." She mumbled.
Isabella walked in slowly. "Sir, I was wondering- if I may have a word with you."
"About?" Candace asked.
"Your Brother, Phineas." She said.
"I see. Well, you are one of my more level headed members. Carry on."
"I understand you calling my squad back, and leaving Phineas alone to draw less attention, but... I do have to mention something." Isabella said, trying to try how uneasy she was.
"And what's that?"
"I don't think Phineas is ready to be in any kind of leadership roll. Ferb has shown much skill in his leadership, and has lead to many victories. Phineas, on the other hand, as much as I hate to admit it, if it was not for me training my girls the way I did, we could have lost many of times." Isabella said.
Candace was silent for a moment. "And what do you suggest?" She asked.
"Maybe... Him dropping a few ranks and being put under someone's wing. And not Ferb's. Ferb has a way of bringing out the leader in Phineas, but when Ferb is not around, any amount of leader is gone, and he becomes dazed." Isabella suggested. "He could lead when we were younger, but I think the pressure has gotten to him mentally."
Candace turned to face Isabella. Candace had received more scars than any other member of the resistance, but only one on her face, a scar going across her nose, and a slit in her right ear. But the 24 year old still managed to look her age. "I agree. And I know the person for the job..."
"Yes, Sir?" Isabella said cautiously.
Candace put her hands on Isabella's shoulders. "You."
Isabella gulped. "Yes... Yes, Sir."
"I'll let him know later." Candace said.
They stood there silently. Candace walked back to the map. "So, how bad was it today?"
"Well... We ended up spying up on that factory that got blown up, and it wasn't any rebel attack. It seems Doofenshmirtz is trying to trick everyone into thinking we blew up a factory." Isabella replied.
Candace shook her head. "Crafty one isn't she?"
"Yes... Vanessa is 10 times worse than her Father."
---
Coming in the next issue:
Holiday stuff in the spirit of the season!
Hopefully a new sponsor since we lost a ton of money publishing this by ourselves!
More serious fanfics based on children's cartoons!
And whatever other wacky stuff the users of Fanon can cook up!
Contact
Next month we're having one big holiday-themed newsletter! E-mail content to danvilletimesmag@yahoo.com or leave it on the Danville Times talk page so we don't look like chumps compared to all of the other major newsletter holiday issues! That's the only thing we want for Christmas!
Community content is available under
CC-BY-SA
unless otherwise noted.