The Official Phineas and Ferb Fanon Newsletter Reboot, Issue 2, 16 January, 2012
 
News and reviews from the fan fiction world of Phineas and Ferb.
 
Success in the Second

By AgentGoldfish

We made it to our second issue! Not much to say about wiki news in this issue, other than the fact that tomorrow is my birthday and I will PERMABAN YOU if you don't give me a present. See an article below to realize that this is all a joke and that I would never do that, despite what some may think.

Fadhil Would Not Give Goldy Any Present At All Except For A Banana

By FadhilPF

Because he already has too much PnF merchandise and has the same amount of MLP merchandise as I do; Zero!




Current discussions

Fanart Gallery
By Everybody

---
Quality or Creator?

By TotalDramaRox97
Many users try very hard to make there character good and popular, but is character quality all that matters to the users, I don't think so. Some users might not give other users a chance on their creations for what they do outside of fanons. Character quality is very important, though lately, some users think the creator is more important than quality.
AgentGoldfish: I will admit Goldfish Darkskull is a very interesting character, but what has made him so popular. Goldy admitted on Skype that Goldfish Darkskull is still on the drop down menu because of only his opinion on him. Goldy is also the most powerful, one of the first, and sometimes power mad admin. So what is it that makes so many users want to give Goldfish Darkskull a chance? Him being on the drop down menu, the fact users may find him interesting, or is it a fear that if they don't read his page, Goldy will block them. Although that third one sounds crazy and Goldy wouldn't do that, it could still be true.
FossilsDaDaDa: Jessica Fletcher, possibly the most popular fanon character was created by Fossy. Fossy is a very nice girl and had a great chance of being the first female admin on the canon wiki. She also has very popular fanons. Also she is very active and is willing to help new users with starting. Is her popularity on canon and fanon what drives so many users to give her stuff a chance. Her stuff is very good, but let's take a journey on the S.S Imagination. What if, a user who doesn't do much outside of making fanons on the wiki, like Amanda Lopez had made Jessica Fletcher instead of Fossy, would Jessica be as popular? Please be honest.
Tpffan5196: Here is a contradictory. Tpffan is extremely popular and friends with many users. But her fanons and characters dont seem to be noticed very much. That's hard to fit with my logic.
TotalDramaRox97: TotalDramaRox97 never had very popular stories even though one of them was featured. He probably lost many of his viewers when he started acting like a jerk. Though he puts months, sometime even a year of thought into his fanons, they are hardly noticed. It's very rude, because it can make people feel like all their hard work is for nothing. He just wants his fanons to be given a chance. Will the fact he has changed make more people read his fanons? It will be answered once he continues his fanons.
Maddyfae: This girl is a perfect example of my point. She got off to a bad start when she insulted people for forgetting to spell check through a blog and her fanons and characters weren't very noticed. Then she started trying to be nicer and people started paying more attention. And her fanons got requests to be updated almost every week. Now that she's gone fanons aren't written as much. Was her support of most users what got her popular or was it actual quality even though some users hate the Perry's girlfriend thing?
PeaceLoveAgentP: This girl is Fossy's best friend and creator of Bobbi Johnson a pretty popular character. Coincidence, I think not. Fossy is possibly the most popular user and her friends are always treated very well (like me getting way too many chances before I was blocked). I'm not saying that Bobbi wouldn't be popular. If PLAP never met Fossy and made Bobbi the same way she is now, would she be as popular.
---
Goldy's Reviews: Phineas and Ferb:The Curse Of The Samurai Sword

By AgentGoldfish
I love this story. It's short, sweet, to the point, just like this review. I will try not to exceed the length of this story too much. It's got no detail. 1/5.
---
The Gurgy Hour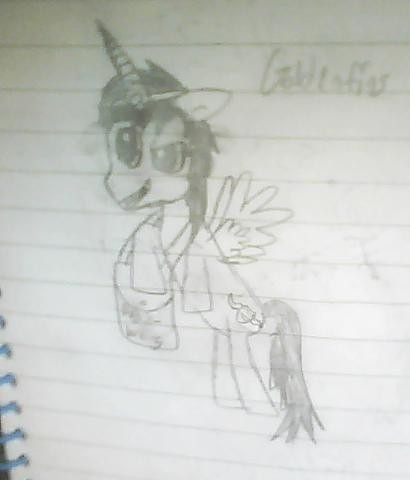 Hello, and welcome to the gurgy hour!
Today I shall do a..
USER SPOTLIGHT!
Today I shall be taking about.
AGENT GOLDFISH!
Tomorrow is his birthday, so why not?
OVERA FACTS:
Agent Goldfish, aka Ryan …ryanson. He joined the wiki on October 16, 2009. His avatar is a goldfish cracker with a ms paint fedora. (so…HIS AVATAR IS AN EDIT AHHHH). He got his name from his friends who called him goldfish because he has a very short attention span. I don't know about the agent part. He is now a chat moderator on the canon wiki chat. He joined the fanon wiki on November 19, 2009. Goldy normally makes big contributions to both wikis. He is now the main admin on the fanon after Fadhill stepped down.
Oh, and also once got to meet Kelly hu and she signed his perry suit, making me very jealous. He will die in his sleep….did I just say that out loud?
PERSONALITY:
Agent Goldfish is…crazy. Very crazy, He often makes jokes every chance he can. He is also one of the biggest PaF fans I know. (Besides me :P ) and if you get into a trivia contest with him, you are quite screwed. He even has a fan made version of irving's scrapbook, which makes him like irving if he wasn't gay for Phineas…or is he? Anyway, he also dislikes shipping. He thinks it is pointless, and thus hates hardcore shipper. He only ships jokingly.
He normally isn't too serious. He likes to joke a lot., but it's never really annoying. If he feels a way about something, he will actually say so. So the jokes are just there to spice thing's up.
FAN CREATIONS
He has a semi-self insert character named Goldfish darkskull. (BEST NAME EVER) I may or may not spotlight him another time. I say semi, because Darkskull started as one, and then became quit different later on.
He has written a few good fanfics, including some non PaF ones. Good ones include Adventure Time with Phin and Ferb (which he needs to finish, dang it!) and Summer Does Not Belong to Klimpaloon.
He created the shipping of Baljeet and linda, named Baljinda. In has a few shippers. And it totally canon!
POPULARITY:
Being the new ruler, he is really popular. He does most things on the fanon wiki, so people kind of have to like him. But he does not control people with fear, as it he is too nice…and not scary. Though he does have one hater, who shall not be named. But he got banned, so it's all cool now.
His character is quite popular, but not because of him being on that bar thing, or goldy being an admin. Darkskull has been well known since his conception. He is popular because he is the type of character people like. Funny, and random.
He is currently in the running for featured user of febuary, along with superflash 101.
And that's about it.
Oh and his nickname is godly.
That's all for today's gurgy hour. Have a nice day!
HAPPY ALMOST BIRTHDAY AGENT GOLDFISH!
Fanfiction Previews
By Anybody Who Submitted One
Enemies have been made...
(scene from It's About Time!)
Doofenshmirtz: YOU'RE DEAD TO ME! DEAD!
Threats have been used...
(scene from Rollercoaster)
Candace: And when I do, you're going down! Down, down, down!
Secrets have been revealed...
(scene from Phineas and Ferb Get Busted!)
Candace: I've secretly always been proud to be your sister!
But on Febuary 1st...
(shows a clip of Phineas and Ferb, horrified)
The biggest secret of all...
(Isabella is shown crying over a picture of Phineas)
...is...
(shows Candace grabbing Phineas as he slips off a rooftop)
...revealed.
(randomly ordered clips from the episode)
Isabella: Phineas?
Phineas: W-what do you mean?
Candace: I HATE YOU!
Doofenshmirtz: You are going DOWN...
Stacy: Candace! What have you done?!
(end clips, shows a black screen)
Phineas and Ferb: The Great Beyond. Revealed Febuary 1st. By Peanutjon.
---
Now for a preview of the adventure of irving and friends episode 15: odds and ends.

Doofenshmirtz: dude, people have been crying end of the world for years! I always believe them every time, and get myself worked up over nothing!
Arnold: but there was a song this time!
Doofenshmirtz: song schmong! I don't believe you for one minute.
Arnold: fine, believe what you want. You'll see I'm right!
Doofenshmirtz: get off my lawn you hippie!
Arnold: you don't have a lawn!
Doofenshmirtz: just go away!
Arnold: fine!
Arnold did as doof said and stomped away.
Doofenshmirtz: geez, that guy's insane. End of the world? What a load, eh perry the platypus? Oh, I should back to my plan..
Doof ran up to his what if inator
Doofenshmirtz: okay, what if…..hmmm, that end of the world stuff has me thinking….eh, why not? Hey, what if machine…What if…the world ended today?
What if inator: simulation ready. Now starting.
Doofenshmirtz: oh, this should be fun…

How does the world end? who's arnold? find out in ODDS AND ENDS. By Stacyfan
Coming in two weeks:
Articles
Reviews
Fanart, fanart, fanart
And much much more!
Community content is available under
CC-BY-SA
unless otherwise noted.