The Official Phineas and Ferb Fanon Newsletter Reboot, Issue 11, 1 June, 2012
 
News and reviews from the fan fiction world of Phineas and Ferb.
 
Summer. Where DO We Begin? An Editorial

By AgentGoldfish It's June everybody! This means Summer Vacation is fast approaching, or for some of us, already began. I'm here to talk about how you can spend your Summer Vacation helping the wiki! You may ask yourself, "Self, it's Summer vacation, and fanon is really... boring me right now. But it's Summer, so where do we begin to fix it?" I'm here to explain that!

First of all, to get your creative juices flowing, start by entering one of our current contests, FossilsDaDaDa has one about "Bessie", which I can only assume is some sort of lake monster in some lake that starts with the letter "B". (You know, like "Nessie" in Loch Ness, or "Tessie" in Lake Tahoe? Anybody? Anybody? Bah.) I, too, am running a contest, involving recreating an object from the show. See mine and her blogs for details and submission dates.

Secondly, after you get your creative juices flowing nicely throughout your creative veins and arteries and your creative heart and your creative cappilaries (Hey, those are THINGS!), WRITE AND DRAW MORE. This place thrives on the creativity of its users. If we're uncreative and boring, the whole site is as well. Don't have any ideas? Maniac-fangirl has a blog full of ideas she ain't gonna use, that anybody can take free of charge. Just give me your e-mail and credit card number and you can use these free ideas! I won't charge anything on your card or sell your e-mail, honest! (heehee, I have my fingers crossed behind my back! MUAHAHAHAHAHA >:D)

And of course, for those of you "background types", we can always use some fancier thingies here, so if you know any fancy thingies you can add, talk to me or Maddy or Che (if she's still around... I can never tell with that one...).

One more thing you can do is submit to our lovely newsletter here, The Danville Times! You can send anything you have to me at notanalien24@hotmail.com. If e-mail is unavailable at the time, a private chat on IRC or chat (preferably the former, if available) works fine. And if you just can't seem to catch me online, you can just drop me a line.

So now, I hope you realize, it's Summer, man, you know where to begin. There's 104 days, so carpe diem and use them wisely.

(Wow, that was the longest opening article I ever wrote for the Times.)

Current discussions

Fanart Gallery (AKA draw more stuff guys)
By Everybody

---
Assorted Across the 2nd Dimension-Related Rants
By J. Severe (NEW NAME)
You may remember the last newsletter where I said I could give a bunch of reasons as to why the Phineas and Ferb TV movie, Across the 2nd Dimension, should be on Blu-ray. Well, I'm going to give them right now.
See? I'm a man of my own words. I'm not just doing this because I have no other idea for what to do for this semi-month's paper. Honest.
Okay, reason numero uno: Disney Channel has done it before. Putting At2D on Blu wouldn't be a milestone for the studio. They've already done it with High School Musical, High School Musical 2, Camp Rock, and Camp Rock 2: The Final Jam. Surely, if those movies are suitable for release on high-definition media, why not At2D? Because it's animated? Nonsense, because –
Reason numero dos: Disney has already put P&F eps on Blu-ray. Remember the At2D video game that came out for PlayStation 3, Wii, and Nintendo DS back in August of last year? Well, the PS3 version had five bonus episodes of the show in HD, and PS3 games are stored on Blu-ray Discs. Therefore, technically, P&F is on Blu-ray, and is the first Disney Channel show to be on the format – even if it is just a bonus feature for a video game. So what would stop them from giving it a full-on release? I mean, after all – Reason numero tres: There IS an audience for it. Just look at the folks on the Canon Wiki or on YouTube. They're always begging for high-quality versions of the episodes, those in the latter just so they can watch a preferred episode not recorded right off the TV, and the former to add decent pictures on the website for those on a quest for knowledge regarding P&F don't see the place as a dump. These people would more than likely go for At2D on Blu-ray.
DVD is getting outdated anyway, Disney needs to keep moving forward. If they can put old movies that I've never heard about before - like some original 50s version of Flubber, on Blu-ray, then surely they can do so with their own DCOMs, right? Who knows? Maybe the future is bright… … Huh. Looking over that, it's not as, erm, long as I thought. I'm going to have to add more to it.
I'm going to do what many reviewers have done for a long time now – complain about stuff that doesn't matter! That's right, folks, I'm going to talk about the faults of At2D! Don't get wrong, I love At2D. It's the best TV movie of yesteryear (especially considering a live-action Fairly OddParents movie was one of the TV movies of yesteryear – ugh…), but nevertheless, there are still some things that get me a bit steamed to this day regarding it.
Pointless complaint numero un: Alt. Phin & Ferb. They serve as the driving force for Candace-2 to try to stop the evil Doofenshmirtz-2. But other than that, what do they do? Nothing. For the counterparts of the two main characters of the movie/show, they're pretty much pushed off to the side. We never get to see them kick butt. I mean, there is that part where they, along with Jeremy-2, bust into jail to free Candace-2, but we never find out how Jeremy-2 even got to find them, where they got their cool new outfits, how they even got there, etc. Why, even in promotional art, such as the DVD cover, Phineas-2 is seen holding some kind of weapon. It's not seen once in the movie. And following the scene with Candace-2, they don't appear until AFTER the huge, gigantic battle between the kids of Danville and the thousands of Normbots. There could have been some great material, such as Phineas-2 and Ferb-2 going back-to-back with their 1st Dimension selves, fighting surrounding clusters of the Normbots. Would have made my life. But sadly, nada.
Come to think of it, not many of the 2nd Dimension characters get much development, besides Candace-2 and Doof-2. Oh well.
Pointless complaint numero deux: The Phinbella kiss.
Oh boy. Let's rewind back to Summer Belongs to You. Canderemy was teased throughout the whole ep. They had the big scene when the gang landed in Paris. And then, during the wonderful ending musical number, Candace and Jeremy finally locked lips. That is how you do a kiss.
Fast-forward back to At2D. Nothing was built up between Phineas and Isabella throughout the entire movie. The kiss was just shoehorned in at the last second, before the gang got their memory wiped, probably just to please the shippers (and boy howdy, did it!) It could have been pulled off so much better, such as if, say, Phineas saved Isabella from getting hit by a Normbot ray during the battle sequence, and she quickly pecked him before going back off to battle. Would've worked for me.
Perhaps most irritating is that the kiss comes right after the heartwarming scene where Phin & Ferb say good-bye to Agent P, so in the YouTube videos, most of the gawking is done towards the kiss rather than the magnificent scene that preceded it. Shameful.
Finally, pointless complaint numero tres: The credits! This isn't such a big deal, but I'm not really a fan of how the "Kick it Up a Notch" music video extends beyond the credits in the TV broadcast. Considering that it's comprised of scenes that we've just seen from the movie, it seems like a waste of time. This is fixed in the DVD version by… well, just removing the "Kick it Up a Notch" song.
Gee, you just can't win around here.
Maybe by slowing down the credits, or having a shortened version of the song playing in the background during the credits, this problem could be solved, but eh. So yes, this seems like enough. Took up two whole pages of Microsoft Word. Feelin' mighty proud of myself right now. I think I'm going to out and buy myself some ice cream for doing such a dadgum good job.
Maybe I'll try some Rocky Road.
Road to E3: The Future of Phineas and Ferb Video Games
By J. Severe (Bonus)
As some of you may know, I am a fan of video games. Not that I have, like, millions of copies of video games or anything like that, but that I'm quite involved in the gaming community. This being a Phineas and Ferb wiki, I would not expect many of its residents to be so as well. For example, I could mention the 1080° Snowboarding, or Ape Escape series…es, or the oft-criticized ending of Mass Effect 3, and quite a few would wonder what I was talking about. Likewise, I can spew a bunch of nonsense regarding what video game systems have the most shaders, or what games should run at 60 frames per second, and most would not care.
This time of year, however, is major, whether you're a hardcore gamer, or simply someone who takes a couple of minutes each day to indulge in some Angry Birds on their iPhone. Yes – it is E3 time. What is this, this E3, you ask? Well, E3 stands for Electronic Entertainment Expo (get it? Each word starts with an E, and there are three words, therefore E3? Clever!), and each year, early June, it's held in Los Angeles, California. It's during this time that developers and publishers come and unveil their latest additions to the world of video gaming for all to see. And each year, it's met with Christmas-esque anticipation.
E3 2012 is shaping up to be quite an epic event. Nintendo will be spilling the beans on their upcoming home console, the Wii U, successor to the Wii, which is set to hit stores this holiday season, and of new software for their Nintendo 3DS, which has now been on the marking for over a year. Sony will be showing stuff related to the PlayStation 3, and will heed to their latest handheld device, the PlayStation Vita, which has been struggling since its launch in Japan December of last year. Microsoft, yes, even Microsoft, will be preoccupied with the Xbox 360, and the casuals-centered motion control device Kinect.
In addition to these, developers will also be gracing the show floor – Sega, publisher of the Sonic the Hedgehog series, Capcom of Street Fighter and Resident Evil fame, and Square Enix, behind the Final Fantasy and Dragon Quest franchises, to name a few. Perhaps most relatable to us is the presence of Disney Interactive Studios, the video game division of the Walt Disney Company. This year, they'll be showing off numerous products, notably Epic Mickey: The Power of Two, the sequel to the 2010 Wii game for PS3, 360, and Wii, Epic Mickey: Power of Illusion, a callback to the old SEGA Genesis Mickey platformers for 3DS, and Kingdom Hearts: Dream Drop Distance, a collaboration with the aforementioned Square Enix, which features worlds based on Disney properties such as the Hunchback of Notre Dame, Fantasia, and Tron: Legacy, for the 3DS also.
Last year, Disney presented Phineas and Ferb: Across the 2nd Dimension, a video game for PS3, DS, and Wii, at the event, based on the TV movie of the same name. (I believe I did blog coverage of that, did I not?) It was caught up in the glorious summer 2011 hype for the film, which I recall quite fondly. If I'm not mistaken, it's been nearly 365 days since the first trailer for that – the movie, not the game – was posted online, which led to a blog with a couple thousand comments on Canon (though that's nothing compared to the Random Topic Blogs we have on here), and me nearly fainting from its sheer awesomeness (though that may have just been from the moment, since when I rewatch it now, I don't do so much as bat an eye).
Of course, this year, a P&F video game is missing from Disney E3's line-up. So that leads us all, or maybe just me, to wonder when the stepbrothers' next gaming adventure will be released, or rather, what it will be. Speculation time!
The first two P&F video games were released on the Nintendo DS released in 2009 and 2010, respectively. However, the DS's successor, the 3DS, is already out in the open. Therefore, it would be rational to suggest that the series, should it continue on handhelds, would go to the platform. The 3DS offers improved graphical compatibilities, as well as, obviously, the glasses-free stereoscopic 3D that's become the main feature of the system. So, fortunately, we would be treated to better than the low-quality models of characters since in those two titles, and something more akin to what we've seen in the At2D game, even if they do look cool.
Would the 3DS P&F game follow the gameplay of the DS games – that is, mainly collecting pieces of items to build inventions, and then use/ride on said inventions? If so, one would assume they'd change up the formula a bit, like done in P&F Ride Again as opposed to the first game, and add more content. In those two DS games, though, most of the action took place on the DS's bottom screen, with a meter of how close Candace was to busting Phin and Ferb on the top screen. With the 3DS's top screen being the one with 3D effects and widescreen, and the bottom screen being a copy-paste of its predecessor's, though, this would have to be switched to make the most of the game.
But who says the series has to be limited to solely handhelds? The At2D game marked the franchise's first foray into consoles – the PS3 and Wii, to be exact. Maybe the next installment could be released on the PS3, 360, and Wii or Wii U? It could be a bigger-budgeted title with more to offer. For example, who wouldn't drool over the idea of an HD P&F game in which you can play as an assortment of characters from the series and explore through an open-world Danville? It could even have an original story, rather than copying some as the past three games have done. There are numerous genres a console P&F title could be. A side-scrolling game – ala the New Super Mario Bros. games – or a role-playing game, or even an action-adventure game with each character having their own weapon (i.e., Phineas has a wrench, Isabella uses her Fireside Girl sash, Perry just uses his bare arms, feet, and tail). Why stop there? We could have a P&F fighting game like the one seen in "Brain Drain." The possibilities are endless.
If you want to be really outlandish, we could go for a darker P&F game, something akin to the recent Batman games, or the Epic Mickey series. Imagine a whole game set in the 2nd Dimension, where you control the Resistance, and witness first-hand the gloomy alternate Danville, with an all-new take on the characters we've grown to know and love? It's unlikely, but it'd sure be something to see.
The theatrical P&F movie is on its way in 2013, and Disney usually comes out with video game adaptations of their films to coincide with their release and make extra moolah. It's very likely that a P&F movie game will be released, for both consoles AND handhelds, if their track record (and the fact that even At2D, a mere DCOM, got one) are to be taken into account. Movie video games don't always turn out so hot though, however, with the right developer, it could be something to look forward. After all, At2D was developed by High Impact Games, who had also worked on the Jak & Dakter and Ratchet & Clank series, which made it the great game that it is.
Well, that's all I got for today. Check back for the next issue of the newsletter later this month for more nonsensical babbling from me. And if you didn't understand a single thing I've been talking about, or couldn't care less, just go on to the more humorous Gurgy Hour.
J. Severe – I have a space in my username now, :D – is out. Peace!
---
The Gurgy Hour
By StacyFan
Welcome to the gurgy hour
Well today is now june 1st. and for me…that's the first day of summer vacation!
There's 104 days of summer vacation til-eh, you know the rest
Seeing as it is now the first day of summer, you may be wondering what you should do over the summer. Well I don't really care. You do what you want (cuz a pirate Is free). But seeing as it is summer, I think I should go back in time…to August of 2007.
I was similar to how I am now, just minus the P&F Fan thing. I hear of this show called "Phineas and ferb'. My first thought was that the title was odd, but I had no real thoughts besides that. I give everything a chance, so I decided to watch it after High school musical 2 that night. In fact, I had heard Ashley Tisdale supplied a voice for this show, and that got me to watch it. …yea, at the time, and even now …I kinda …liked her.
…anyway, so I watched it and for the first time ever, a shows first episode got me to love the show from the start. From the theme song I was hooked. I remember laughing hard at "Mom, Phineas and ferb are making a title sequence!". I pegged the shows premise from the start, and I knew I liked. I did not know a single thing going into it…
So perry made go "…WUT". And once the perry theme played in the credits, I already became obsessed with the show. So…
I liked it before it was cool.
So It was cool to see the fandom start up and get to where it was now. I just thought it'd be a funny show I liked, but then I saw the adult liking it and realized how clever it really was.
But enough of that,. Let's go back and…REVIEW THE FIRST EPISODE
ROLLERCOASTER
PLOT: seriously, do you need to know it? It's been revisted, referenced, and MUSICALIZED. But I'll say it for reviews sake. Phineas and Ferb build a rollercoaster, Candace tries to bust them, and Doofenshmirtz covers the eastern seaboard in tin foil, and tries to reverse the rotation of the earth
The first thing I must discuss is how this episode fits with the overall series. As a pilot alone, it's great. It steps up all three plots perfectly, and shows you exactly what you are in for. They establish the main characters just fine. Ferb is silent, Doof is dumb, etc.. Candace in particular is set up while, in both her busting and her insanity.
As for Phineas…well he's interesting.
Originally, the creators wanted him to be more snarky. So thus he's a bit different here than in the rest of the show. People have mixed opioins on this. I think it works, for a pilot. Most shows have characters being different in their first episodes. so this is fine.
Plus, Phineas' deadpan snarker-ness really works here. Heck ,I love the too young line In this. It's so normal ,but the way he says it is just funny!
The only bit that puts me on the fence is hiding the rollercoater from Candace early on…it's odd since this is the only time in the series he does .it's the only asshole-ish he does. He's simply a snarker for the rest.
I don't mind it, but I'm glad they changed this. I would hate Phineas if he was kept this way.
Anyway, let's talk about the notable things that happened in this. We get the first mentions of Stacy…and Jeremy. Infact, Jeremy was going to be The Ghost. You see, they had Mitchel Musso as FERB, but they found Thomas sangester.
They like musso so much, they made Jeremy real so he can get on the show. So a character was made just for the actor .that's kind of funny.
Right from how she talks about him, you can tell him Candace spoofs annoying teen serotypes, which she and stacy both do during the entire series. I point out this out since it adds to why this show is so darn good!
We also get another case of Early Installment weirdess. Monogram is just mr exposition here. Unlike Phineas, it's not too jarring. Later on, he'd get a full personality, an intern, and become one of the funniest character.
It's just another example of a pilot being different.
Anyway, it does what a pilot does. It sets up the characters as well the plot. It does seem odd after seeing later episode. But it still fits in, by having the antics we usually see, mainly on the Candace/Doof side.
It's a good pilot, and a good episode on its own. That's my main point: it's one of my fave pilots ever.
It's one off the few times with any show where I liked it from episode one. Other shows I like from the start, but I don't love them til later. Here, I loved it from day one
Anyway, I also love how the writers messed with Rollercoaster in every possible. First, they had the characters go back in time to the episode. It happens in "Phineas and Ferb's Quantum Boogaloo". Candace gets Mom to see the coaster, thus the parents react by making doof ruler and putting them in little things until adulthood..
…a little harsh, I think.
They just took the events of the episode and showed how important they were to the overall story they're telling. It's great.
And then…Rollercoaster the musical! Yes, they took the episode and had the characters do it as a musical. They keep the plot the same, but a lot of the dialoage is different. For example, Phineas is now the way we know him as. It was great to see them mess with the episode again.
Just more proof of great writing!
And then…John Colton Barry wrote a joke song for the musical, where the missing characters sing about missing the rollercoaster. At the end, Baljeet swears.
,…I'm not joking. He has baljeet swear HARD.
I love this guy.
Of course, I messed with it twice! I added irving to it, and put his POV on it, and then added songs to that! This episode is just ripe for messing with.
It's an important episode in the shows history. It showed us the first inkling of greatness, and such. It started a simple funny cartoon, but it is now one of the biggest hits on the Disney channel, and one of the most loved cartoons of today.
It's good to know where your roots are. And this huge show, has some humble, funny beginnings.
That's it for today. Happy summer!
---
Fanfiction Previews
Nooooooooooooooooooooooone. So instead, enjoy a couple of music videos to celebrate the beginning of Summer.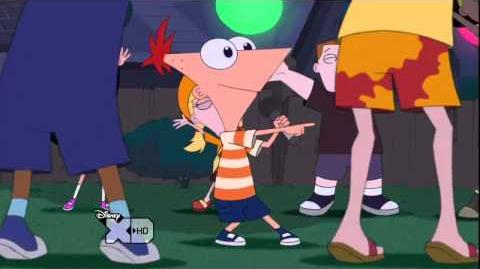 Coming in two weeks:
Articles
Reviews
Fanart, fanart, fanart
And much much more!
Community content is available under
CC-BY-SA
unless otherwise noted.