Hi peoples!I am Phinabella Rules!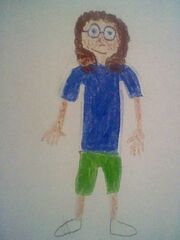 My fave pages
Shippings
Love-PHINABELLA!!!!
Like-Canderemy, Stacetrane
Not gonna continue yet.
Userboxes
About Me
I am a female, tweenage, P'n'F fan, Phinabella lover, reader, nerd, and tomboy. I normally stop watching a DCOM a week after I see it. I hate being off the CPU. My favorite color is blue and my least favorite is yellow. My emotions act up easily so please don't pick on me. I hardly ever look on the bright side but I believe other people should. I have a lot of pet peeves but try not to show it.
Songs I Like
Till the World Ends by Britney Spears
Stop Standing There by Avril Lavigne
When You're Gone by Avril Lavigne
My Happy Ending by Avril Lavigne
Things I'll Never Say by Avril Lavigne (I think it fits Phinabella really well)
Grenade by Bruno Mars female version by Ariana Grande
About You Now by Miranda Cosgrove
Leave it All to Me by Miranda Cosgrove
Fireflies by Owl City
Vanilla Twilight by Owl City
Super Honeymoon by Owl City
Umbrella by Rihana
Halo by Beyonce
Every Time we Touch by Cascada
Blow by Ke$ha
Teenage Dream by Katy Perry
Hot'n'Cold by Katy Perry
Change by Taylor Swift (TDR, I want you to listen to this song and think about its meaning)
Breathe by Taylor Swift
Freak the Freak Out by VICTORiOUS cast
I Want You Back by The Jackson 5
Nothing Even Matters by Big Time Rush
Haunted by Taylor Swift
I'd tell you more but then you'd be here til you die.
I Like
PHINEAS AND FERB
Recess
Kim Possible
Invader ZIM
music
drawing
writing
meat
spaghetti
friends
guitar
drums
NDEs
OOC moments
RANDOMNESS
Community content is available under
CC-BY-SA
unless otherwise noted.