Cake is a sometimes food! Cake is a sometimes food!


This user is temporarily away. The user may respond in long time periods or as an anonymous user. However, this user is not leaving the wiki forever.
About Ferblover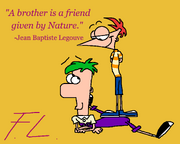 Helloooooooooooooooooo nurses and doctors! I'm Ferblover (you can call me Ferb or FL for short). Since I draw a lot, I take requests. I can only draw Phineas, Ferb, Perry, Doof, and Larry the Platypus (my character).
HEY YOU GUYS! I'm back! Sorry! I've been so dang busy with Deviantart and Youtube and homework (9th grade is hard!) that I haven't had enough time to see my buds! Well, I'll be blogging some more and uploading art and stuff. yeh
FL

You guys should use this as a wallpaper I am because it is hilarious
Stuff

I made you a pie!
Oh boy! What flavor?!?
PIE FLAVOR....
(Awesome guitar riff) LAWL!
Shippings I Support
Perranie (Perry and Lanie)
Phinabella (Phineas and Isabella)
Femily (Ferb and Emily)
Dillkatie (I dunno what that one's called it's just Dill and Katie)
Larrary (Larry and Mary)
Pages I've Made (Che; I'm NOT copying you!)
Phineas and Ferb Go Looney (Tunes)
Phineas and Ferb Meet the Animaniacs
Ferb E. Coyote and Phin Runner: The Cartoon Script
Coyoteas and Cerb In The Future
A Brother's Work is Nervously Done
Community content is available under
CC-BY-SA
unless otherwise noted.