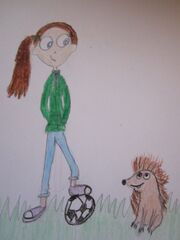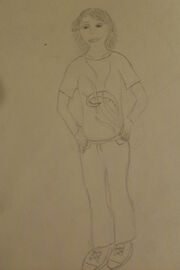 "Well, he was all up in my face." -Ferb (after causing Buford to be unconcius in "Th Raging Bully")
"Carpe Diem!"
"Sing like no one's listening
Dance like no one's watching
Love like you've never been hurt"
Hello all!
AlexCat
Gender:
Female
Age:
13
Height:
5 feet 1 inch
Nationality:
American
Hometown:
Greality
Born:
Denver
Nemesis:
Lack of Creativity and Celery
Professional Information
Signature:
 
150px
Friends and Family
Parents:
I swear sometimes that I could be a direct decendent of Murphy (of Murphy's Law)
Creator:
How many licks does it take to get to the center of a tootsie pop? The world may never know...
Stepparents:
yes
Siblings:
Eliebeth and our little sister:)
Stepsiblings:
nope
Grandparents:
13 grandparents, last I checked
Pets:
Meeko Parvus Draco (Meeko Little Dragon in Latin)The Leopard Geko

Gary The Cat- I will always remember my Pretty Kitty.
Behind the Scenes
First Appearance:
 
7-17-98, interesting day...
"Imagination is more important than knowledge"-Einstien
Ah, words to live by... If your curious, you're in the right place, creativity, nature, courage, curiousity, phyisics and ferb all rock in my book!
please note that I am also a pround geek
a harry potter fan
I'm a bit ecentric (taking pics off school roofs, building van de graaff generators,ect.)
proudly ADD
play the saxophone
I love all animals (not including centipedes) Especialy Amur Leopards, Platapi, and Leopard Geckos!
am hopeless at spelling
I'm allergic to cats- but love'em!
I live in Colorful Colorado
and think Ferb is fantastic!
And Eliebeth is my twin sister.
Community content is available under
CC-BY-SA
unless otherwise noted.