*snap* OKAY!
This issue of the Times is ready to be sent.
(subscribe)

The Official Phineas and Ferb Fanon Newsletter, Issue 3: May, 2010
 
News and information from the fan fiction world of Phineas and Ferb.
 
Our Demands (Slowly) Getting Met


As I was browsing amazon.com, I came across this little book. Thats right. Heinz Doofenshmirtz wrote a book and put it on amazon. I first thought, when looking at this for the first time, "I MUST have this! I have ALWAYS wanted to take over the TRI-STATE AREA and this book will teach me how! Muahahahahahaha!" Thats right. I did laugh maniacally in my head. I may, if I obtain this book, write a review of it in December. Until then, let's hope our demands get met!

Current discussions


---

---

Wiki News


By That stupid guy (again) and Goldfish

As always, we ask that you stop using blogs as much. ESPECIALLY blogs with no point, like, "BE RANDOM!!!!!!!! IDFHUAEGHURGH!!!!!!" It's just a stupid idea. I like randomness (Or "Random-ness" as Daisy calls it) as much as the next guy, but take it to the message board, please! But if you still prefer that same style in the blogs, please (and I repeat PLEASE) take it to the IRC instead.

---

---
Fanart by AG and DG...And Ferb
By User:AgentGoldfish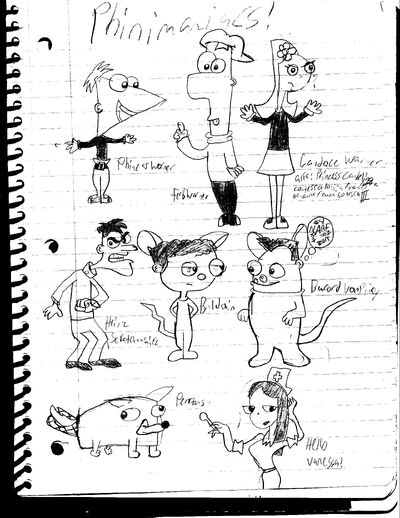 ---
A Plant's-Eye View of Things On The Web Related to P&F
By Planty

We interrupt this column that is not yet in progress to bring you another column, also not yet in progress
Hey everyone, I'm your host Planty, and this week we are stepping out of Fanfiction, to bring you other things related to P&F. I had originally planned to review a crossover with Futurama, to coincide with the return of the show, but none exist, soooo... First up is a news story from November 2009, about:
"MEEP!
Don't know what it means? Don't worry -- most people over the age of 22 don't either.
A school principal threatens to suspend students who mimic a Muppet character. But the nonsense word -- which apparently started with the 1980s Muppet character Beaker -- is causing a lot of teeth-gnashing for adults at one Massachusetts high school. They have gone so far as to threaten suspension for students caught meeping.
As much as I enjoy the Muppets, I can't help but ask, could they have been imitating the lovable alien crime-fighter Meap from the episode The Chronicles Of Meap. Another thing I have a problem with, is that The Muppet Show debuted in 1976, meaning most people over the age of 22 probably know the "origin" of the non-sensical word which makes up the language of Beaker, and Meap, while high-schoolers probably are more familiar with Phineas & Ferb, than they are with the Muppets. Third thing, "Chronicles" premiered in June 2009, which was probably during or right before the kids' summer break (if they are on a traditional calendar). And while that premiered in June 2009, the latest thing on television Beaker had appeared in as of that time, was the Letters To Santa special which premiered in 2008. Anyways, I feel that threatening students with suspension, no matter where the kids heard the word first, for saying a silly word is downright idiotic. If they want to ban words, why not ban the "Censored Seven", or better yet, the story said that students started saying the word during a screening of a movie/show, What was the show? Because, if it was "Chronicles" or the Muppets, or even a Road Runner cartoon, it just might be the teacher's fault.... Next up, a Youtube video, from Recycled Citizen, that is a cover of "Today's Gonna Be A Great Day" (the theme to P&F). I've gotta say, this is pretty awesome. It's energetic, enthusiastic, and a bunch of other E words... This cover starts off kind of slow and relaxed, but as we get farther into the song, he amps it up, and rocks out. My view: 5 out of 5 stars....

Have a great 4th Of July, American people, and... See you all in 2 weeks, from your friendly neighborhood potted plant

<-- Table 4 -->

Coming in a random date:
Art by Ferblover
Another inciteful review from your friendly neighborhood potted plant
Another rant
Another update on merchandise
Some more news
And possibly a video
Community content is available under
CC-BY-SA
unless otherwise noted.