(subscribe)

The Official Phineas and Ferb Fanon Newsletter, Issue 1: April 11, 2010
 
News and information from the fan fiction world of Phineas and Ferb.
 
Our Demands (Slowly) Getting Met


This week on ODsGM, I will inform you of something we've ALL been waiting for! No, not Irving shirts, action figures! They have a transforming Perry, "eye-buggers" of Phineas, Ferb, Perry and Doof (The Perry one looks like Baby Perry xD), "Ferb My Ride" vehicles, and many other things. Seing as I have not yet purchased any of said merchandise, this will not include a review. But, what I can give you, however, is a link to a gallery with every single one! Hold on just one sec- hold on, I can't get this...Ah there we go: http://www.flickr.com/photos/paulnomad/sets/72157623463095966/. If you want to purchase these, I suggest searching Phineas and Ferb on [1] or [2]

Current discussions
*Forum:Vote for the Featured Picture

---

---

Wiki News
By AgentGoldfish

We now have a newsletter :D

---

---
Fanart by AG and DG
By Disneygirl94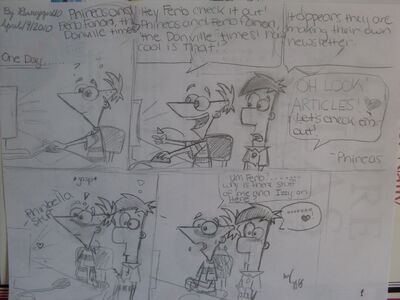 ---
Daisy's Column
By Daisy
Helloz!! and welcome to the first issue of The Danville Times, and to the first edition of Daisy's Column!! This is obviously a column hosted by me, Daisy56, a.k.a. Daisy. Today I will "rant about something related to the wiki or Phineas and Ferb", (as stated by Agent in the preview issue of the Times).
I've been noticing that there are many fan fics on here that involve other cartoons, such as Phineas and Ferb meet Kim Possible, Phineas and Ferb meet Lilo and Stich, etc. Also, I started thinking about how would Phineas and Ferb look like on other shows, in other styles. Like, if they ever had a cross-over with some other great animated cartoon, such as SpongeBob, Teamo Supremo(I still can't believe they don't show this one anymore), or Kim Possible (I loved this show!).So, here's a question to all the fanon authors: Would they (Phineas and Ferb) be drawn in the other's show's style, or would the other show's characters be drawn in the Phineas and Ferb style? (Just something random I thought about while remembering good ole memories from House of Mouse.) Well, it turns out that my internet connection sucks right now, so I might as well write some more stuff that I was going to include in the next issue until I'm able to e-mail this to Agent. Usernames: I remember the day I first joined this wiki....(FLASHBACK!!!) I was in Mexico on my cousin's computer, and I was on Emilylover224's blog, complimenting her on her picture. She asked me if I could create an account, and I said, okay. I couldn't really waste much time thinking about what should I choose as my username, so I wrote chose the first thing that popped into my head: Randompnfnerd. I would later regre-- What do you know! My connection's back on!! I'll just finish the username thing in the next edition of The Danville--Wait!!! Never mind.... As I was saying, I would later regret choosing this as my username, as many (cough, cough, Raya) said it was very, very long. That was around March, and the week after that, when I was again in Mexico, I created another account because I forgot my password on the Randompnfnerd one. This time I took a long time deciding my username. I thought--No!! No! You do not bite people's socks!! No!! Sorry, that was my friend's dog. I put much thought into my new account name. These were the original choices: Alice54 (I like Alice in Wonderland), MaxRide56 (I love the Maximum Ride series that nobody on here seems to know about), and Daisy56 (A version of my middle name, plus, she always beats Bowser on Mario Kart [J.K. Bowser101]). Daisy56 won. So, the [second] question of the week: Did you guys think a lot about what your usernames should be, or did you guys just type in random stuff? Well, that's all for this week, folks! Sam Sparks is out! Peace!! :-)
---
American che's Poetry Corner
By American che
Sitting in the backyard Under the tree
And Ferb says
'I know what we're going to do today!'
Are you confused?
Well, that's how it works
Here at the Fanon Times.
---
A Plant's-Eye View of Fanfiction
By PlantyThePottedPlant
Hey, and welcome to A Plant's-Eye View of Fanfiction, I'm your host, PlantyThePottedPlant. Today, on the premiere column, I'm not only going to review 1, not even 2, but 3. Yes! As Tom Lehrer said, three is a magic number, and Jenny's number was 867-5309..... Yeah, I know, random, but I just felt like mentioning that. Yes people, this is how the column will be, some reviews, and some funniness, and pop-culture references. So, let's begin.... shall we?
First up is a good idea poorly executed, The All Nighters by Theben. In this fiction, Phineas and Ferb open a shop to try to see who can stay up the latest. As expected, Candace tries to bust the boys, yet is too tired to do so. Isabella and The Fireside Girls are the next to fall victim to Mr. Sandman (Mr. Sandman, bring me a dream, Make him the cutest that I've ever seen). Ferb is the last to fall asleep, making Phineas the winner. Meanwhile, Doof makes a "Stay-Up-All-Night-Ray-inator" (I'm getting tired of Doof applying -inator to the end of all his inventions). Perry reverses it, making it a "Fall-Asleep-Now-Ray-Inator" (See, even Perry does it), shoots Doof with it, and that's pretty much it. In this episode, Ferb has 4 lines, and there are 2 songs. I'm gonna stop right now... Ferb should NEVER have more than one line. If this was a real episode, it would be the WORST EPISODE EVER. It would be worse than if we just stared at a still picture of a jar of mayonnaise. This would be worse than if P&F did a crossover with the Teletubbies. The FREAKING TELETUBBIES! My view on this: 2.5 out of 5 stars.
Next up, is Dennis Returns by everyone's favorite IP code: 208.102.190.137. In this fiction, the fan-created characters, Patricia, Florence, and Adam are at the pound, trying to find a new pet for Patricia & Florence (who already have a dog named Buttons... unless they mean the Animaniacs character. Oh, on a side-note, Buttons is voiced by Tress MacNeille!). After being at the pound for a while, the girls (and boy... I guess) spot a rabbit being walked out on a leash. Patricia begs the manager to let her adopt the rabbit, who, since this fanfiction is pretty good, I won't spoil it for you, but, I bet you can guess. Anyways, my view: 4 stars out of 5.
Finally, Bango Ru: Surfin The Web by Manta-Bee, In this fiction, Nothing, absolutely nothing. If there's something, then pinch me, and call me "Loopy Stu", and since there's nothing, my view is 0 stars out of 5!
See you next week, Fanon freaks!
Coming in two weeks:
The First Merchandise Review
Some REAL community news
Another of Planty's inciteful reviews
An original fanart by Agent
Another rant by Daisy
and a poem!
Community content is available under
CC-BY-SA
unless otherwise noted.