Reginald Fletcher
[[File:|200px]]
Gender:
Male
Age:
77-78
Nationality:
British
Hometown:
London
Professional Information
Profession:
 
Retired
Former Fishmonger
Former Daredevil
Reginald Fletcher, nicknamed Reg, is a former daredevil known as The Flying Fishmonger. He is the grandfather of Ferb Fletcher, Candace Flynn, and Phineas Flynn, husband to Winifred Fletcher, and father of Lawrence Fletcher. British, he speaks in a heavy Leeds accent.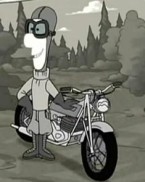 As a Grandfather, he suffers from many aches and pains, such as lumbago and a bad trick knee. He is still very spry, and active as ever. His grandchildren will visit him and Winifred at least once a year, and he lives his life retired in his London home lying next to the former castle of
the Black Knight of Worcestershire
. (Some say it was a SHEEEEEEER)
Community content is available under
CC-BY-SA
unless otherwise noted.