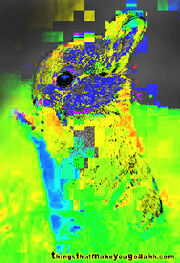 Well, thank you for inviting me!
This article belongs to Frederatorfan. Please ask them before editing the article. If you do so without asking, or if the owner says no, you will get a warning. If you continue, you will be blocked.
PnF's Neat-o Adventures was a spinoff of
Phineas and Ferb
. After
Season 999900000000
, everyone realized the writers were skeletons from working so long, so Season 9999000000000 was the last season of the main show. Even though the show was cancelled, the fans were begging for more and the network executives realized it would make their ratings higher. So they hired the easiest writing team they could find, which consisted of an infinite number of monkeys, 8 babies, an old man, the oldest man in the world, the youngest man in the world, and a guy on the run for copyright infringement (credited as Ripoff Guy), and made them write this spinoff.
About the show
The show had a lot of episodes, 312731323124707079678676 to be exact. To fill in for this large number of episodes, many of the episodes had repeated gags, were Clip Shows, or had plots mimicking other shows. Almost every episode was criticized to death for its poor writing. One character, Radial Rabbit, (picture above) was actually removed from reruns after people destroyed Africa in anger over the character's awful design. However, people liked some of the title cards.
A sampling of episodes
The first episode, aired in 32412 AD. Phineas eats a cereal while watching Pop Eye. The episode is mainly in black and white.
It has the exact same plot as the Simpsons episode Brother Can You Spare Two Dimes. Written by Ripoff Guy.
Ferb and a crudely-drawn stick figure celebrate Christmas. Written by 7 of the babies.
Phineas walks into a trash compactor. Made in honor of the world's oldest man, who recently ate a pizza.
This is the last episode. Ferb falls down and his head explodes. Available on DVD.
Cancellation
After the show recieved bad ratings, a new writer named Paranoid Man wrote the last two episodes, Work Ties 2: Work Of Fury, and Ferb's Fall Saga, which was meant to be a series finale. The show was released on a DVD (With 1000 discs!) that costed two cents.
Full Episode List Coming Soon
Community content is available under
CC-BY-SA
unless otherwise noted.