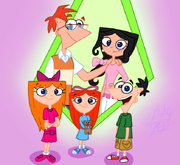 Lynnette Flynn is the second oldest out of
Phineas
and
Isabella
's three children. She is one year younger then her older brother,
Jacob
, and a few years older then her little sister,
Julia
. Lynnette is very much like Candace, sometimes, not a lot in her personality,
Lynnette Flynn

Lynnette is the girl on the far left

Born:

N/A

Died:

N/A

Age:

11 or 12 (not confirmed.)

Family:

Phineas Flynn (dad), Isabella Flynn (mom), Jacob Flynn (brother), Julia Flynn (sister)

Hair color:

Orange

Eye color:

Navy Blue

Profession:

Student, (on vacation)
Her best friend, is Jasmine Patel. Lynnette is a very practical girl, and very mature for her young age. She tends to be realistic and very calm.
Biography
Lynnette lives in Danville on Maple Drive with her family. She frequently participates in her cousin's invention, assisting in construction and maintaining order. She is considered not only a leader, but a great friend. Lynette is the second and the first daughter of Isabella Garcia-Shapiro and Phineas Flynn, the older sister of Julia and younger sister of Jacob
Community content is available under
CC-BY-SA
unless otherwise noted.