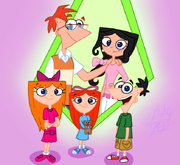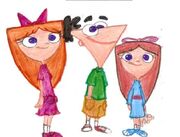 Julia Marie Therese Flynn-Shapiro is a non-existant daughter of Phineas Flynn and Isabella Garcia Shapiro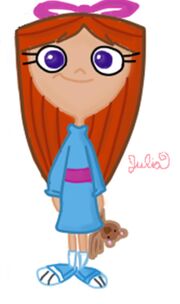 Personality
Julia is a sweet intelligent girl like her Father, Phineas. She is outgoing, brave, adventurous, very perky, and a HUGE optimist. She is also a bit of a tomboy, and can be oblivious.
Physical appearance
Julia has short, spiky red hair like her father, Phineas, freckles on her face, and has deep navy blue eyes.
Relationships
Julia loves her dad more than anyone in the Flynn family (besides Isabella) . she also loves to hang out with him in his workshop and inspire him to "Keep Moving Forward". He has nicknamed his little girl, "Daddy's little bulider." and loves to call her his "Little Marie" or "Marie" in general.
She loves her Mother, but thinks she can be strict at times, but adores her anyways. Isabella is proud of her daughter. Shedaily encourages her to "follow her dreams.
Julia loves Jacob, and loves to build with her big brother. She tends to leave Jacob in shock sometimes, with her talent for constructing things.
Julia looks up to Lynnette, and likes to bulid stuff sometime and chat with her often, but Lynnette is more of a girly girl, so they don't have the same "view" on things.
Julia doesn't hate Mr. Biz, she just doesn't like it when he plots to bring her Daddy down.
Julia Understands James feelings and that all he wants to do is have fun. she stars out with him as secretly friends, but when Julia realizes James loves her more than just a friend, she somewhat loves him in return.
Meaning
Julia is a name meaning "Youthful."
Skills: Julia has many different skills.
Julia can sing very well.
She can bulid and fix things easily for her age.
Has musical instrument ability.
Has amazing leadership ablities like her mother Isabella did, and can get
people to work together.
She is very persuasive.
She is very organized and neat.
She is observant.
Community content is available under
CC-BY-SA
unless otherwise noted.