Well, thank you for inviting me!
This article belongs to Maddyfae. Please ask them before editing the article. If you do so without asking, or if the owner says no, you will get a warning. If you continue, you will be blocked.
We're waiting on some parts!
This article is under construction. It may cut off at one point.
Jenna (Agent J)
[[File:|200px]]
Gender:
Female
Age:
6 (About 42 in dog years)
Born:
April 24, 2004
Professional Information
Profession:
 
Agent
Affiliations:
 
O.W.C.A.
Behind the Scenes
[[File:|200px]]


Jenna, as an Agent
Jenna is a red siberian husky and the pet of Madison Rege. She is an Agent for O.W.C.A., known as Agent J.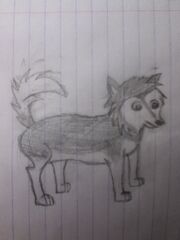 Relationships
Madison loves Jenna a lot and Jenna loves her right back.
Theme Song!
She's a semi-Alaskan, fluffy mammal of action!
She's a furry little paw-foot who sometimes flinches from a fray-ay-yay-yay!!
She's got more than mad actions, shes got a fluffy tail and contraptions!
And evil flees whenever it hears her say:
*Jenna does a howl/whine thing*
She's Jenna!!!
Jenna the Siberian Husky!!
Jenna!!
A-GENT J!
Community content is available under
CC-BY-SA
unless otherwise noted.