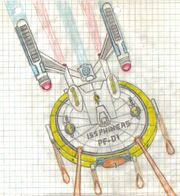 The
ISS Phineas
PF-01 is a cold fusion-powered Flynn Class starship that is recognizably similar to the
USS Phineas
of the Prime Universe. The
ISS Phineas
is the flagship of the Terran Empire, an earth-based empire in a parallel universe that seeks the conquest of all other worlds possible. It was constructed in the Doofenshmirtz Shipyards in 2010 as the first prototype warp-powered starship for an imperial navy of starships (
Balance of Terror
). It has the same general design as the
USS Phineas
, but has more torpedo tubes that protrude from the saucer hull, both fore and aft. It also has the Terran Empire insignia and a yellow-rimmed saucer. It was used by the Terran Empire counterparts of Phineas and his friends in
The Great Temporal Battle
against their Prime Universe selves in
The Terran Empire
. It suffered a hull breach where some of its Fireside Girl engineering crew nearly perished by being sucked out into space from the hull compromise. It aided the anti-Terran Empire opposition in
A New Star is Born
, where
Emperor Heinz Doofenshmirtz
is peacefully dethroned.
Appearances
Crew:
Captain/General Phineas Flynn
Commander Ferb Fletcher (First Officer/Helmsman)
Commander Isabella Flynn (Communications)
Lieutenant Commander Irving (Last Name Unknown) (Science Officer)
Dr. (Lieutenant Commander) Baljeet Rai (Chief Engineer/Agony Chamber Master)
Major Buford Van Stomm (Weapons Console)
The Fireside Girls Engineering/Medical Crew
Possibly Other Unnamed Security Personnel
Technical Specifications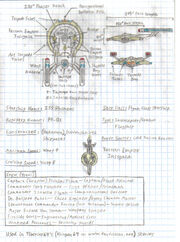 Dimensions
Total Length: 275 ft.
Hull (Saucer) Diameter: 150 ft.
Full Height: 62 ft.
Hull (Saucer) Height: 50 ft.
Shuttlecraft
Captain's Yacht: 1
Standards: 3
Speeds (c = speed of light)
*Note: Error on the Picture (Uses ST:TOS measurements instead of TNG-DS9-VOY measurements)
Cruising Speed: Warp 8 (190,464,000 Mi./Sec.), or 1,024c
Maximum Speed: Warp 9 (281,976,000 Mi./Sec.), or 1,516c
Armament
Standard Phasers: True (come from 270-Degree phaser bank on top of and underneath saucer)
Standard Mark IV Torpedoes: 100
Standard Mark IV Photon Torpedoes: 50
Standard Mark IV Disruptors: 25
Power
Warp Core: True
Power Source: Cold Fusion/Matter-Antimatter Reaction
Propulsion/Other
Warp Nacelles: 2
Impulse Power Unit: True
Shields: True (260 MHz)
Community content is available under
CC-BY-SA
unless otherwise noted.