Elisabeth Marie Fletcher

Gender:

Female

Age:

not born yet

Born:

September 10, 2025

Died:

N/A

Hair color:

Lime Green

Eye color:

Navy Blue

Siblings:

Parents:

Ferb Fletcher (dad) Emily Fletcher (mom)

cousins:

Grandparents:
Elizabeth Fletcher is
Ferb Fletcher
and
Emily Kinney
's daughter in the Future.
Personality
Lizzie Fletcher is quiet, calm, sweet, always happy ten year old girl. She often keeps her thoughts to herself. She sees her cousin, Julia as a little sister, and is often the voice of reason for Julia's enthusiasm.
Physical Appearance
Lizzie has bright lime green spikey hair like her father, with bright blue eyes. She has inheirted Emily's face, but her Father's hair.
Relationships
David Fletcher
Being only a year apart with him, she loves David dearly and is his best friend, but sometimes thinks he needs to not say his thoughts so much and "Think before he speaks."
Thomas Fletcher
Very special to her, Lizzie always looks out for her youngest brother and loves him very much.
Meaning
Elizabeth is an English name that means "Pleasant" and "Beautiful"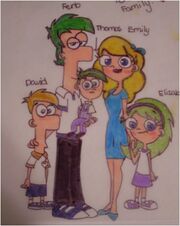 Community content is available under
CC-BY-SA
unless otherwise noted.