Doof's Without Leg
Nova Phineas and Ferb



Heinz Just Cut Off Legs

Season:
1
Production code:
101a
Broadcast number:
1
Story by:
Профессор Грей
Written by:
Профессор Грей
Storyboards by:
Профессор Грей
Written & Storyboarded by:
Профессор Грей
Directed by:
Профессор Грей
Broadcast Information
Disney Channel US Premiere:
TBA
Disney XD US Premiere:
November, 30 2019
International Debut:
December, 4 2007(Pacman,Ukraine)

November, 26 2019(2x2,Russia) November, 30 2019(STS,Lithuania) December, 02 2019(PTC1,Serbia)
See more...
Story arc(s)
(Phineas and Ferb episode) Candace Loses Head
Doofenshmirtz losing legs hands of Timur and his gang after Vanessa beat Heinz to death. meanwhile, Phineas and Ferb arrange a music concert which will be already on the next episode
Episode Summary
Transcript
For a full transcript of Doof's Without Leg, click here.
Songs
"If the guy you are cool" performed by Buford
End Credits
A Repeat of "If the guy you are cool"
Gallery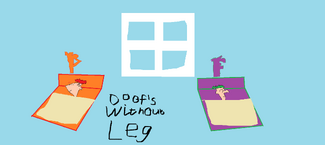 The image gallery for Doof's Without Leg may be viewed here.
Running Gags
Ferb's Line
Watcha Doin'?
by Isabella
Evil Jingle
Timur and his gang Bust Vanessa
Background Information
However Vivian Make a Non-Speaking Cameo with Polish Leader Vintik Shisz
More What Karl Mentioned That Major Monogram was killed
First Episode of Nova Phineas and Ferb
Stacy Don't Appear in This Episode
Norm Appear Picture in Only
Continuity
Allusions
Cast
Vincent Martella as Phineas Flynn
Thomas Sangster as Ferb Fletcher
Ashley Tisdale as Candace Flynn
Maulik Pancholy as Baljeet Tjinder
Alyson Stoner as Isabella Garcia-Shapiro
Bobby Gaylor as Buford van Stomm
Olivia Olson as Vanessa Doofenshmirtz
Tyler Alexander Mann as Carl Karl
Jeff "Swampy Marsh" as Major Monogram ♦
Kelly Hu as Stacy Hirano ♦
Dan Povermine as Dr.Doofenshmirtz
Dee Bradley Baker as Perry the Platypus
Professor Grey as Shisz,Professor Timur,Professor Maffin(Picture in only),Yan Rorstochi,Evgeny Ivanov,Misha,Mister Muscul
Caroline Rhea as Linda Flynn-Fletcher
Richard O'Brien as Lawrence Fletcher
Eileen Galindo as Vivian Garcia-Shapiro ♣
Annabell Johnson as Himself
John Viener as Norm(Picture in only)
♦ designates a character that did not appear in this episode
♣ designates a character that appears but has no lines
Characters
Major Monogram(mentoined)
Professor Maffin(Picture in only)
Vivian Garcia-Shapiro(No speak)
Norm(Picture in only)
Community content is available under
CC-BY-SA
unless otherwise noted.