Well, thank you for inviting me!
This article belongs to Tiberius64. Please ask them before editing the article. If you do so without asking, or if the owner says no, you will get a warning. If you continue, you will be blocked.
In one parallel universe, Django is part of a resistance movement against the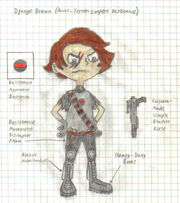 Terran Empire, an earth-based empire ruled by Emperor Heinz Doofenshmirtz that seeks the conquest of all other worlds possible. He is only a minor character in
A New Star is Born
and is not elaborated upon much at all, as he is only mentioned in
Balance of Terror
. His friends are Candace Flynn and Stacy Hirano, who are both members of the resistance movement.
Creator's Comments
"I just wanted to throw in Django because I had never featured him in any of my stories and felt the need to put him in something. He really wasn't necessary, but I felt that we also had to show some younger ages present in a resistance movement against Doofenshmirtz's regime."
Community content is available under
CC-BY-SA
unless otherwise noted.