Well, thank you for inviting me!


This article belongs to Tiberius64. Please ask them before editing the article. If you do so without asking, or if the owner says no, you will get a warning. If you continue, you will be blocked.
Christopher Flynn is the first child of Phineas and Isabella Flynn after their marriage in Love's Full Blossom (he was born the following year - 2026) in Tiberius64's story series. He is first featured in Ad Astra 1: Encounter at Alpha Centauri, where he is 4 years old and, just like his father, mechanically inclined at a young age, although to smaller scales for the time being (he has even built action figures of his parents in their TerraFleet uniforms). He is also similar in appearance to Phineas, but has black hair (that doesn't have pointed ends) and wears a green and blue striped shirt, jean shorts, and red tennis shoes. By 2038, however, he has moved on to a green and white striped shirt, khaki shorts, and flip-flop sandals (as of Ad Astra 2: Youth and Nostalgia). By this time, he also has a little sister named Erica, who is 5 years younger. He is a semi-minor character in Ad Astra 4: Sacrifice of the Angels (2040) as the leader of his group of friends, who intervene in a fight between the Phineas-A and the IKS K'lathak in a nebula. He is also mentioned in its direct sequel, Ad Astra 5: The Fight for Ferb. His second time as a major character is in The Survivors (2038), where he helps a runaway group of kids from abusive homes make their message of war against child abuse known through desperate resistance against police, the law, and even TerraFleet forces.
Personality
He wants very much to become like his father, Phineas, and sees him as a role model. When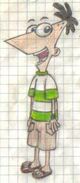 aboard the USS Phineas-A and taken to the holodeck for recreation, he chooses the day when, back in 2011, Phineas and his brother Ferb had built the coolest rollercoaster ever. He is only a minor character in the first Ad Astra story, but is a main character in the second, along with Erica and their friends. He appears to be annoyed that his sister likes reading as her first choice of the day's activities, although the two get along a bit more whenever they are building things; he is a bit less of an intellectual person than she is, as is shocked by how sophisticatedly she speaks at the age of 7 (2038). He is mutually in love with Nana Flores, the leader of The Survivors, despite her being 3 years older than him.