Ad Astra ("to the stars" in Latin) is a spinoff fanfiction series by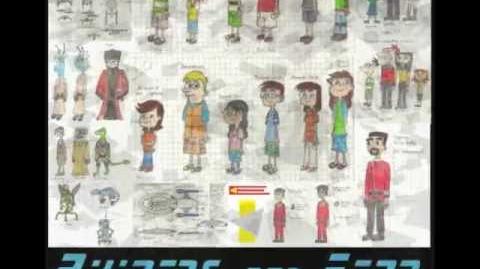 author Tiberius64 (Klingon64 on FanFiction.net). Its prequel is the story Love's Full Blossom, the story of Phineas and Isabella's marriage on June 14, 2025 after an April 15th proposal. The pilot story is Encounter at Alpha Centauri, which chronicles the first exploration mission of the USS Phineas-A (PF-01-A; the second starship Phineas) and the first meeting with the powerful (but not omnipotent) being named S'lar. By this time (2030), earth has begun building up a fleet of starships in an organization known as TerraFleet, whose officers are trained at the Flynn-Fletcher Academy. Phineas is ranked as Captain, although, as a TerraFleet founder, holds all authorities of an Admiral; the only other starship captain mentioned is Captain Philip Nunez of the USS Constantine (PF-105),
who also holds Admiral-like powers. By this time, all characters are married and have children - for Phineas and Isabella, it is a son named Christopher Flynn, and later, a daughter named Erica Flynn. The first alien species met after the Martians and Species 1 are the Thoroni and Soruna of the Alpha Centauri System. The marriages consist of:
Candace and Jeremy
Phineas and Isabella
Baljeet and Ginger
Buford and Adyson
Irving and Katie
Django and Milly
Holly and Geon Im
Gretchen and Peter Leyva
However, the second installment, Youth and Nostalgia (2038), chronicles events that take place entirely on earth, where the children are all playing with high-tech wands in the park and S'lar intervenes, recreating the Across the 2nd Dimension battle before returning everyone to their proper homes and ages. The third installment, In The City Of Love, is an entirely Phinbella-themed plot, where both spend some time together in Paris the following year (2039). A new enemy alien species mentioned in this story is the main group of antagonists in a much darker themed installment, Sacrifice of the Angels, which also experiments with reversible character death - in that case, Ferb himself. The series finale, Ad Astra 5: The Fight for Ferb, chronicles how Ferb is revived after the vigilance of Phineas, Isabella, and the Phineas-A crew; it also chronicles the death of the Phineas-A and the birth of the USS Phineas Flynn (PF-01-B).
Trending pages
All items (57)